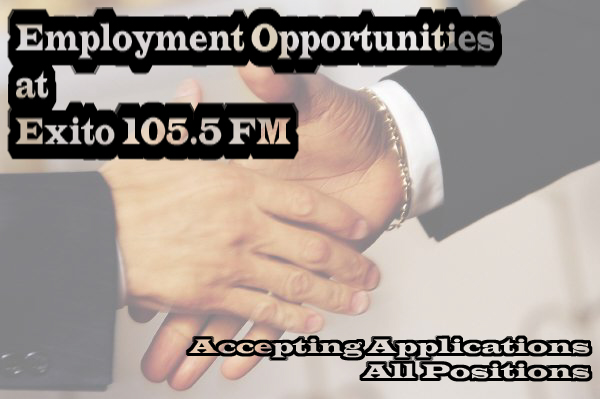 We are in the business of helping our customers grow their businesses. We do this effectively with our wide variety of media and entertainment products.
We believe in maximizing our customer's satisfaction. We will deserve and will earn their continued loyalty. Our goal is to have long term, mutually profitable relationships.
We believe in providing superior value to customers through high quality, technologically advanced, fairly priced services designed to meet customer needs better than all the possible alternatives.
We believe Radio Exito's people are our most important asset. Our teams make the critical difference in how we perform and their skills, talents and determination separate us from our competitors. We also believe people can achieve their full potential when they enjoy their work, so it is a priority to provide a workplace where growth, success and fun go hand in hand.
We believe we have an obligation for the well-being of the communities in which we live. We further believe the future success of our communities and the industries where we do business is dependent upon the responsibility we feel, the high standards we set and the positive impact our actions have.
We believe excellence is the standard and we seek to achieve excellence by encouraging and nourishing these core values:
* Respect for the individual.
* Honest, open communication.
* Individual development and satisfaction.
* A sense of ownership in Radio Exito's success.
* Participation, cooperation and teamwork.
* Creativity, innovation and initiative.
* Prudent risk-taking.
* Recognition and rewards for achievement.
We believe success is measured by:
* Achieving leadership in the markets we serve.
* Developing our own people to form the building blocks of our internal growth and expansion.
* Maintaining the highest standards of ethics and integrity in every action we take and in everything we do.
* We believe the ultimate measure of our success is to provide a superior value to our stockholders.

Radio Exito will not tolerate discrimination in employment on the basis of race, color, age, sex, sexual orientation, religion, disability, ethnicity, national origin, marital status, veteran status, or any other legally-protected status.
At Radio Exito, we are committed to recruiting and retaining diverse talent by creating an environment that integrates diversity and inclusion in all aspects of our business. Our company is enriched and made more effective through representation of diverse experience, backgrounds, ethnicity, education, sexual orientation and regional and cultural orientation. Radio Exito is an Equal Opportunity Employer where women and minorities are encouraged to apply.
Radio Exito Radio operates a decentralized business structure, where all station activity is locally programmed and operate to serve their individual community. Radio Exito provides a local station with "professionalized," higher quality radio by utilizing extensive research mechanisms to target thousands of listeners each week.
The company is heavily invested in operations and marketing, helping advertisers build their businesses and growing radio's share of overall ad spending. Radio Exito maintains a strong focus on connecting with the communities it serves through local groups, national organizations, community leaders, charities and special causes. Tune in to hear your favorite music and information!
Send Resumes and Demos to:
WWWK - Exito 105.5 FM
C/O Personnel Department
27501 South Dixie Hwy
Suite 208
Homestead, Florida 33032
or Email: LSierra@myradioexito.com
or Call: Lilliam Sierra at 786.344.9690