Are you …
In a panic because YOU were selected to plan the Wedding Anniversary Party!?!
Click Below to Find Many Items and Party Favors to Make Your Event The Most It Can Be: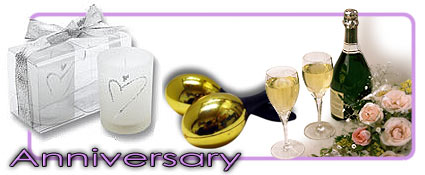 Celebrate Milestones!
Memorable occasions can be celebrated with 2 to 400 guests. Whether celebrating one year or fifty years, make sure your Anniversary Parties are special.
Choose from paper goods, decorations and favors to enhance your special day.
Happy Anniversary!
Let's face it, most of us don't plan anniversary parties every day. So it's understandable that when the time comes we're stumped. We sit, pen in hand, in front of a blank piece of paper with an even blanker mind (if that's possible). We KNOW there are a bazillion ideas out there … but we can't think of even one! Time ticks by; the party looms closer. Not only have we not planned a theme… we haven't even booked the date!
These scenarios are played out all over the world every day. Why? Because of all the events we observe in our lives, anniversaries are one of the most extraordinary. A wedding anniversary celebrates a couple's achievements and honors their commitment to one another through years of laughter and tears.
Anniversaries involve people you care deeply about, and you want to create beautiful memories that will last a lifetime. It's natural that you want to give an anniversary gift that shows just how much you care. And of course you want to plan a fabulous anniversary party to celebrate such a special occasion.
Make your Anniversary Party a time to remember and reflect on the best of times. Let KeysDAN Enterprises, Inc. Live Entertainment and Disc Jockey Services take care of all of your entertainment needs. We can help you in the planning of your party either in person and/or using our online planning form.