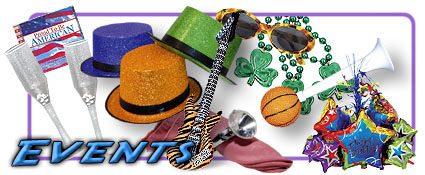 A Party to Remember!
Your Milestone celebration will be a special memory. Complete your celebration with our selection of great items.
Click a category to see all our products, grouped according to your event. You'll be sure to find everything you need!
Whether your special occasion is small, medium, or large, appropriate music will enhance the ambiance. Graduation Balls, Birthday Parties, Baseball Season Opening days, Weddings, (jazz, classical, show biz, Christian, Jewish, Latino) , Christenings, Office Parties, Hockey Playoffs, Country Club Dances, Cruises, Swing Dance Weekends, Fourth of July Celebrations, Corporate Mergers, Hospital Openings, and Private Dances which seemed to not have any special reason, except, perhaps, that the family had a single day when they could all be together, and wanted to both rest at home, and to hear music and have some fun!