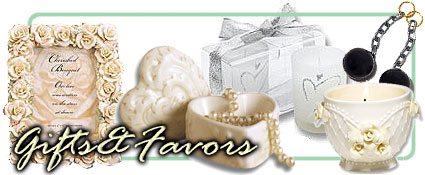 Its only a memory!
Our gift and favor section has
great ideas for personalized favors
for bridal showers and weddings.

We have also included keepsakes and fun stuff for your guests at any type of event!
Planning an Engagement Party
The Rules Are Simple
The happy couple has decided to turn their relationship into a lifetime commitment and it's time to share the good news with family and friends. It's also time to introduce the future in-laws to one another. That's why it's time to plan an engagement party to announce and celebrate the exciting event.
Traditionally this party was hosted by the parents of the bride, usually at their home. But along with other evolving changes in social etiquette, the rules for this party are no longer so hard and fast. These days anyone can host the engagement party, and in some cases the event is planned by the future groom to make the proposal to his intended bride - although I would hope he's pretty sure of the answer before he does this!
The party can be held in a home, a restaurant, or any place that captures the imagination of, or has special significance to the couple.
It might be the scene of their first date, or their favorite corner restaurant. If the couple enjoys outdoor activities together, it could be a picnic at their favorite hiking spot.
Likewise, the event can be simple or elaborate. Cake and coffee at the home of one set of the parents is fine; champagne and hors d'oeuvres at the home of a best friend is appropriate; a casual buffet at her sister's house would be great; or a sit down dinner, barbecue, or brunch hosted by the groom's parents. The rules are simple in that there aren't many!
One of the few rules is that your guests should be limited to friends and family who will be invited to the wedding. But that doesn't mean it should be the full wedding guest list. An engagement party is a more intimate affair. Also, gifts are an option at this party, and should not be expected. Do not under any circumstance put the registry information on the invitation.
If this party will serve the purpose of introducing the two families to one another, it would be a good idea to have an ice breaker or two planned to help warm things up. If not, someone who knows the majority of the guests well should be assigned the job of welcoming people to the party and making the introductions.