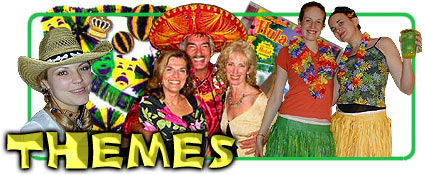 Add a Theme to Your Party!
Whatever the occasion add to the excitement by making it a theme party. Carry out your theme from your invitation to the table settings, decorations and more. Whether you select WESTERN, LUAU, FIESTA, SAFARI, NASCAR or NFL or whatever theme you choose... have a great party!
Let KeysDAN Enterprises, Inc. Live Entertainment and Disc Jockey Services help you throw the theme party to end all theme parties... We will come dressed for the occasion and fill your entertainment needs. So why not make you event more memorable by adding a theme to it such as Luau, Fiesta, Sports, Mardi Gras, Casino, Western, Safari, Hollywood, Beach Party, Black Light Party, Patriotic, Colorful Schemes, Be Happy Party, Music, Pirate Party, Oriental, Roaring Twenties, Stars, or Survivor Party. Or make it a theme of your favorite Decade Theme.
Theme parties are a blast - the fun of a theme party is you can throw them anytime - no reason, no season - just Party! I've done theme parties for years, both professionally and for personal parties for 'kids' of all ages. We can help you in the planning of your party either in person and/or using our Online Planning Form.
Click here for Basics for Throwing a Theme Party.
Click Above to Find Many Items and Party Favors to Make Your Event The Most It Can Be: