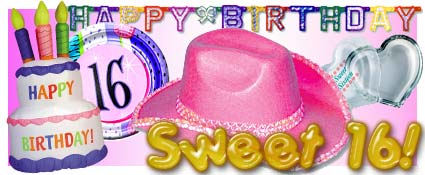 Happy Birthday Sweet 16!
What a special time in a young lady's life when she celebrates her SWEET 16. Whether you are planning a small party or large, we have everything you'll need to make it a special event. Looking for ideas? Our Sweet 16 theme section will give you examples of some of the favorites.
Have a great party.
Sweet sixteen parties are changing. Some teens feel awkward about having a formal party... who to ask...who not to ask...what if the "right" people don't come...what if the "wrong" people do show up? Some teens dream of the day, others shrink in horror.
Let the about-to-be sixteen make the decision. If your teen says no, offer the option of an informal fun party with a theme that everyone will enjoy... or a backyard bash for close friends. Remember - the goal is for the birthday star to have a memory to cherish. These sites should help make it easy...
Years ago, sweet sixteen parties were the thing! Not much different than a Bat Mitzvah, these parties have taken on a whole new look. It used to be that you invited your friends, had cake, danced and went home. Today, things are different. The parties are not so generic and have really become an acknowledgement of adulthood and a celebration of the individual. Most parties have themes that include the interests of the young lady who is celebrating; most have a DJ, and some even have a band. all sorts of party favors are given out; the room is decorated vividly, and the activities are endless (not just dancing). Adding personal touches, whether it's a personalized invite, a candy bar wrapper (with the birthday girl's picture, or even a life sized caricature really have become the standard approach.