Make your event a time to remember and reflect on the best of times. Let KeysDAN Enterprises, Inc. Live Entertainment and Disc Jockey Services take care of all of your entertainment needs. We can help you in the planning of your party either in person and/or using our online planning form.
Click here to check out other types of Theme Parties.
Click Below to Find Many Items and Party Favors to Make Your Event The Most It Can Be: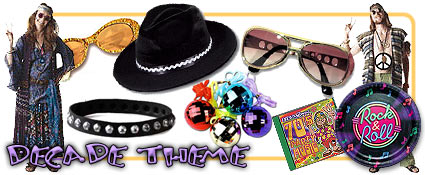 Remember When!
"Those oldies but goodies remind me of you", but your guests will remember any decade at your theme party. Add to the fun by dressing up as a Hippie or Elvis. Be a "Dancing Queen" and party to "Disco Inferno". This section gives you great ideas for all of your Milestone events.